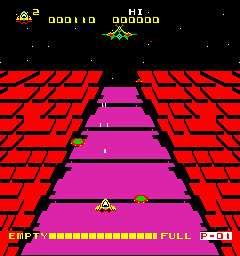 May 6, 2021
Each week for Arcade Gems we highlight some lesser-known, must-play titles. These games are favorites of those in-the-know, and, once you give them a try, we think you'll agree that they're worthy classics.
This week's Arcade Gem is Astro Fantasia (1981) by Data East Corporation. In this space shooter, one or two players take turns controlling a spaceship and fighting waves of enemies. With inspiration drawn from earlier shooters, Astro Fantasia uses simulated 3D graphics to add depth and dimension to the battlefield.
All images, trademarks, and copyrights are the properties of their respective owners and are used solely for illustrative purposes.