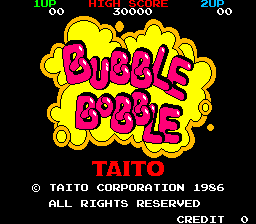 April 29, 2021
For Family Classics, we highlight titles that the whole family can enjoy. Colorful graphics, fun sounds, approachable gameplay, and more, it's all here each week with Family Classics.
This week's Family Classics is the lovable 1986 TAITO arcade game, Bubble Bobble. If you enjoy Chack'n Pop, you'll love this!
When humans, Bub and Bob, wander into a mysterious cave of monsters, they are magically transformed into cute, colorful dragons! The only way they can transform back is to reach the end of the monster-filled cave. In this platform game, each level is a single screen and enemies must be cleared before characters can move on to the next scene. Collect fruit and other edible goodies to earn points, and blow bubbles at opponents to trap them. Fun power-ups allow Bub and Bob to release lightning or harness water to wash away foes.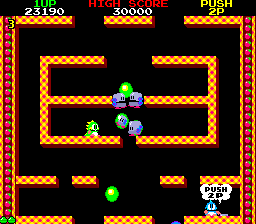 Bubble Bobble™ & © TAITO CORPORATION 1986  ALL RIGHTS RESERVED.
All images, trademarks, and copyrights are the properties of their respective owners and are used solely for illustrative purposes.