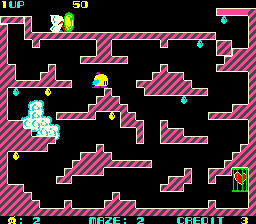 April 22, 2021
For Family Classics, we highlight titles that the whole family can enjoy. Colorful graphics, fun sounds, approachable gameplay, and more, it's all here each week with Family Classics.
This week's Family Classics is the fun TAITO arcade game, Chack'n Pop. If you love Bubble Bobble, you'll love this! Chack'n uses bombs to fight Monstas and Mightas, in order to reclaim Miss Chack'n's stolen hearts. Each Monsta egg has three phases: blue: it's completely harmless, yellow: it will pop within 10 seconds, and red: it will pop almost immediately! Clear out the monsters to beat the level.
Chack'n Pop™ & © TAITO CORPORATION 1984  ALL RIGHTS RESERVED.
All images, trademarks, and copyrights are the properties of their respective owners and are used solely for illustrative purposes.