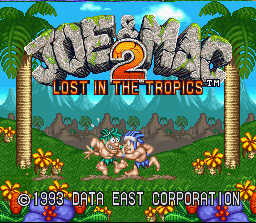 Joe & Mac 2: Lost in the Tropics
May 6, 2021
For Family Classics, we highlight titles that the whole family can enjoy. Colorful graphics, fun sounds, approachable gameplay, and more, it's all here each week with Family Classics.
In this week's Family Classics, Joe & Mac 2: Lost in the Tropics (1994), the lovable cavemen are back! A caveman named Gork has stolen the Kali Village Chief's crown. Using 7 rainbow stones you will find during your travels, it's up to you to retrieve the stolen treasure.
---
All images, trademarks, and copyrights are the properties of their respective owners and are used solely for illustrative purposes.