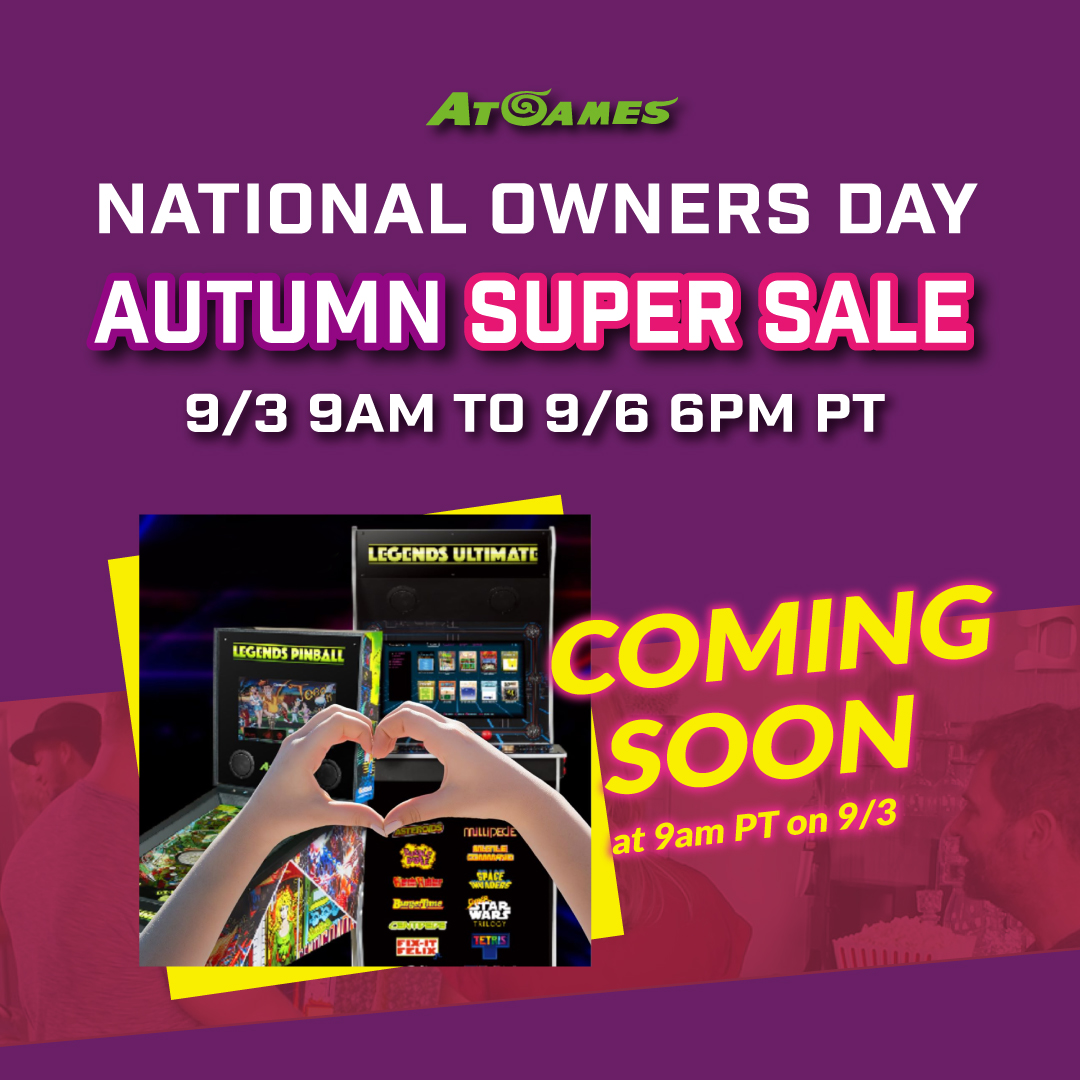 National Owners Day (NOD-A) 2021
September 2, 2021
National Owners Day (NOD-A) 2021 Autumn is here!
Fun, events, big deals, and more will be yours from September 3 –  6, 2021! Check out our video presentation preview on National Owners Day (NOD-A) 2021 Autumn:
NOD-A 2021 is the third in the special series of AtGames-hosted celebration events for existing and future owners centered around staying connected, having fun, shopping special deals, and winning big! There will be NOD-signature exclusive deals on the AtGames E-Store (https://www.atgames.us/) running from Friday, September 3, 2021 (9AM PT/11AM CT/12PM ET), through Monday, September 6, 2021 (6PM PT). These deals will include brand new products and bundles for Legends Ultimate, Legends Pinball, and a special entry-level price-point for the Pinball Starter Kit, as well as huge discounts on must-have accessories like the BitPixel LED marquee, Arcade Control Panel for Legends Pinball, Legends GamePad, and more. 
The special NOD-A events will take place throughout the day on Sunday, September 5, 2021 (9AM PT/11AM CT/12PM ET through 6PM PT), and include exclusive prizes and giveaways, new products released for orders and preorder reservations, and a new partnership announcement. Customers who purchase anything from the AtGames E-Store during this time will automatically be entered into a special drawing to win prizes. Every purchase increases the chance to win!
Finally, please note that the newest Legends Universal Firmware, v5.49, released on September 2, 2021 (availability after 5PM PT), is required to enable the new My Digital Locker feature, where you can conveniently "one-click" redeem digital codes from our E-Store. Be sure to update all of your Legends Arcade Family devices so you have access to this and all of the other latest features for your device(s).
---
All images, trademarks, and copyrights are the properties of their respective owners and are used solely for illustrative purposes.