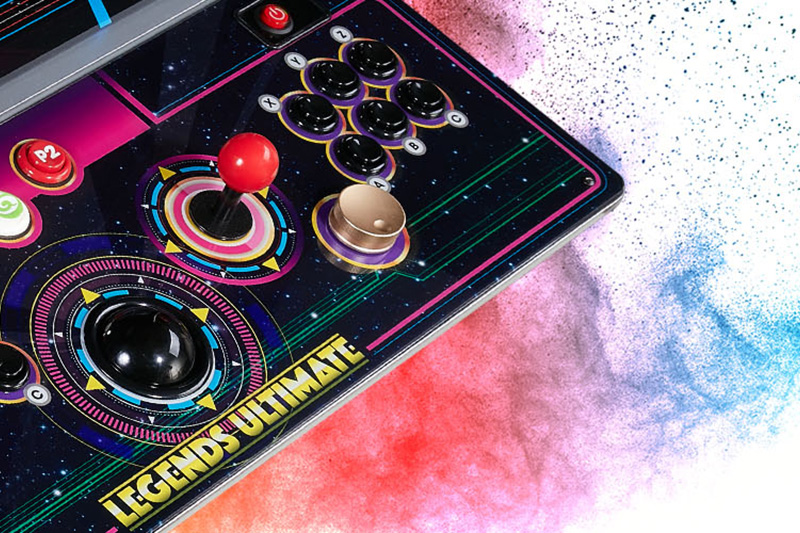 April 15, 2021
Legends Universal Firmware v5.29 (April 15, 2021)
Highlights
New ArcadeNet® games!

Multiplayer for FarSight Studios pinball game packs 1 and 2!
ArcadeNet®
Miscellaneous
FarSight Studios pinball games now support multiplayer.
FarSight Studios pinball game pack WiFi fix.
Minor UI improvements.
General performance and stability improvements.
Known Issues
FarSight Studio pinball game button mapping UI discrepancy. Currently REWIND icon is displayed to start game, however must use A button.
[Lobby] On rare occasions the host of a voice chat session will be left at a non-responsive screen after leaving the waiting room.
[Lobby] Voice chat session can take upwards of 60 seconds to establish a connection.
[Gamer Series] Certain routers may experience issues with maintaining consistent connection.
[FarSight Studios/Zaccaria Pinball Tables] Some users may see a non-default camera view, which may be different from global settings, the first time they load a table. This problem goes away after a user confirms preferred settings and restarts the table.
The pinball game Gladiator has minor performance issues while in portrait mode.
You may lose control of the external device in OTG mode; reseating the USB cable should fix this.
Button remapping does not carry over to certain features like ArcadeNet® FDX titles or CoinOpsX Front End. This is currently being worked on.
Not all controllers are compatible with Legends Core button mapping system.
---
Legends Pinball Firmware v5.28.5 (April 15, 2021)
Highlights
New ArcadeNet® games!
Haptic feedback improvement!
FarSight Studios Gottlieb pinball animation improvements!
ArcadeNet®
Miscellaneous
Minor UI improvements.
General performance and stability improvements.
Haptic experience has been further refined and improved.
Audio popping issues have been improved.
Ball rotation animation introduced for FarSight Studios Gottlieb pinball games.
Known Issues
The Leprechaun King team play DMD is displaying upside down.
OTG tile is not currently working. Please use the HDMI option under SETTINGS as a solution.
Attract mode in-game is not implemented.
FarSight Studios in-game volume is louder than set default volume.
---
About the Release Notes
The release note offers brief, high-level descriptions of enhancements and new features for your Legends Arcade Family product running on the Legends Arcade Platform. We include setup information, tips to help you get started, and best practices to help optimize your experience. 
About the Legends Universal Firmware
Supported devices in this release of the Legends Universal Firmware update include Legends Ultimate 1.0 (350 games version), Legends Ultimate 1.1 (300 games version), Legends Gamer Pro, Legends Gamer Mini, and Legends Core.
About the Legends Pinball Firmware
Supported devices in this release of the Legends Pinball Firmware include the Legends Pinball.
Update Contents
A software update can include, but is not limited to:
– Device stability improvements and bug fixes.
– New and/or enhanced features.
– Further improvements to performance.
To get the best from your device, please regularly check for software updates and keep it up to date. To update your device, select Version under Settings and follow the prompts.
All images, trademarks, and copyrights are the properties of their respective owners and are used solely for illustrative purposes.