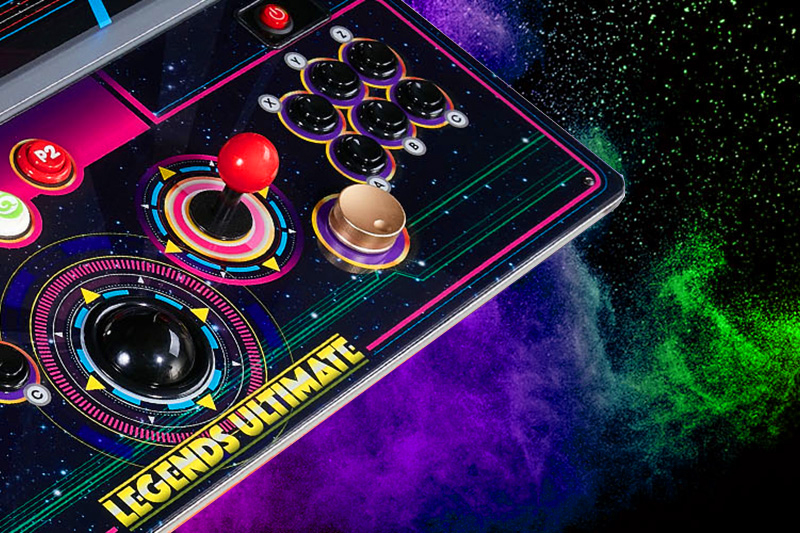 Release Notes – Week 33 (August 19, 2021 v5.47)
August 18, 2021
Legends Universal Firmware v5.47 (August 19, 2021)
Highlights
[Legends Pinball Only] OTG Accelerometer support in select third-party applications. OTG Accelerometer now supports the Pinball FX3 platform on Steam. Support of individual tables may vary. We welcome feedback on this beta feature and will continue to work on adding more platforms.
[Legends Pinball Only] Easy Mode (Beta) update adds (a) D-Pad/Joystick navigation support; (b) navigation speed improvements; (c) fast forward and backward in navigation; and (d) other minor UI/UX streamlining and performance enhancements.
Built-in Games
ArcadeNet®
Misc
Minor UI improvements.
General performance and stability improvements.
Fixed known issues: (a) [Legends Pinball] In certain rare cases the user may have to login multiple times before credentials are confirmed; (b) [Attract Mode] User can be left at a blank, black screen when cycling through videos; and (c) [Attract Mode] TAITO Attract Mode may not appear in the correct orientation.
Known Issues
Some FarSight Studios pinball game button mapping UI has a discrepancy: The REWIND icon is displayed to start a game; however, the A button must be used. This is currently being worked on.
[Gamer Series] Certain routers may experience issues with maintaining consistent connections.
CoinOPSX has issues exiting when connected via Bluetooth mode. The user can set the controller mapping setting option to map the AtGames control deck buttons, including "rewind," as a workaround. This is currently being worked on.
The pinball game Gladiator has minor performance issues while in portrait mode.
Button remapping does not carry over to certain features like ArcadeNet® FlashDriveX (FDX) titles or the CoinOPSX frontend. This is currently being worked on.
Some users may experience Invalid File Size when downloading firmware. The current workaround is to uninstall game packs from the Settings menu, then proceed to redownload firmware.
[Legends Pinball] Left Nudge and Rewind get swapped in CoinOPSX when a gamepad is connected. This is currently being worked on.
[CoinOPSX Backglass Support] 60fps videos may experience stuttering. 30fps videos provide optimal performance.
[TAITO Pinball] Graphical issues with table spotlights during classic display attract mode for all TAITO tables on all Legends Arcade Family devices.
[Legends GamePad] Legends GamePad shows device is paired after a reboot of the machine, but it has no function. This is currently being worked on.
[Legends GamePad] Bluetooth controls do not work inside of FarSight Studios Gottlieb pinball tables.
[Legends Pinball] User may experience distortions/buzzing sounds coming from haptic speakers, even at low volume.
[Offline Mode] Users may receive abnormal "unable to release license error" when first loading the firmware or booting on the machine.
[Offline Mode] If a user owns two licenses of the same game on overlapping game packs and one game pack is checked out they will not be able to play that selected title.
[PixelcadeX Leaderboard] FDX Games will not show leaderboard score when FDX games are installed until user reboots the machine.
[OTG Mode] Certain users may need to re-map the buttons on their external OTG Legends Pinball setup.
[OTG Mode] Certain users may experience low OTG volume when built-in Gottlieb tables are set to low volume. The temporary work around to fix this is to manually set any Gottlieb table to 100 with the physical volume slider and then exit the game. After user re-enters OTG Mode, the OTG volume should be returned to normal.
[Legends Ultimate 1.1] Random loading screen followed by NO SIGNAL display. This occurs most of the time during loading of FDX apps/gamepacks.
[CoinOpsX] In rare cases, CoinOpsX starts with no sound and the games freeze the system when you try to start them.
[Legends Ultimate 1.1] Certain users may experience incorrect Left and Right physical flipper button mapping inside various pinball titles. This is currently being worked on.
[AppStoreX] AppStoreX may take a long time to load for certain users.
[Legends Pinball] OTG input lag may be slightly increased for some users.
[Easy Mode Beta] UI does not reflect D-Pad/Joystick navigation add. This is intentional in this beta and will be updated as more user input is gained.
---
About the Release Notes
The release note offers brief, high-level descriptions of enhancements and new features for your Legends Arcade Family product running on the Legends Arcade Platform. We include setup information, tips to help you get started, and best practices to help optimize your experience. 
About the Legends Universal Firmware
Supported devices in this release of the Legends Universal Firmware update include Legends Ultimate 1.0 (350 games version), Legends Ultimate 1.1 (300 games version), Legends Gamer Pro, Legends Gamer Mini, Legends Core, Legends Connect, and Legends Pinball.
Update Contents
A software update can include, but is not limited to:
– Device stability improvements and bug fixes.
– New and/or enhanced features.
– Further improvements to performance.
To get the best from your device, please regularly check for software updates and keep it up to date. To update your device, select Version under Settings and follow the prompts.
---
All images, trademarks, and copyrights are the properties of their respective owners and are used solely for illustrative purposes.