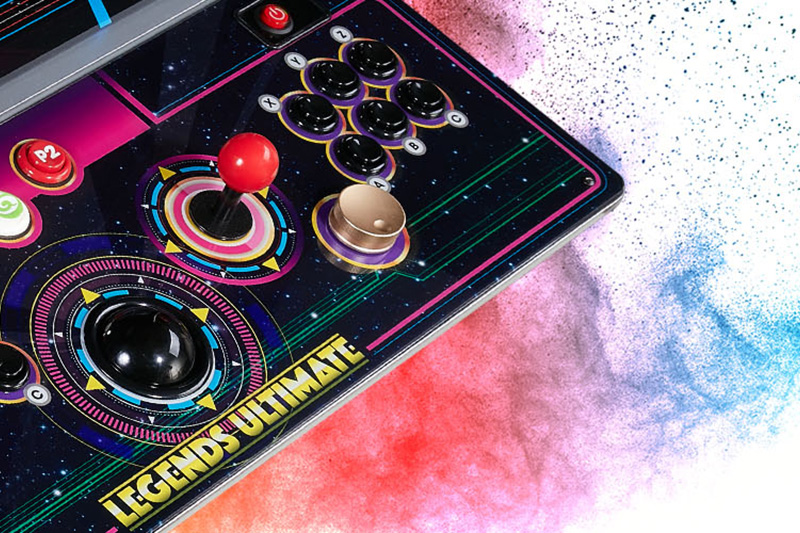 November 25, 2020
Legends Universal Firmware v5.12 (November 25, 2020)
Highlights
New and expanded universal leaderboards! See details below.
CoinOPSX 1.2 (updates to this third party app provided by the CoinOPS team)
Games
New leaderboard games added. Compete for an online high score (https://www.atgames.net/arcadenet/leaderboards)!:

Class of 1812 (Pinball Classics)
Goin' Nuts (Pinball Classics)
Starship Troopers (Pinball Classics)
Gun & Frontier (Arcade Classics)
Metal Black (Arcade Classics)
Chameleon (Family Arcade Classics)
Gondomania (Arcade Gems)
Sky Fox (Arcade Gems)
Prehistoric Isle in 1930 (ArcadeNet®)
BYOG™
Mouse cursor no longer disappears after using Windows' virtual keyboard in Cloud BYOG

™
AppStoreX
Prepare a CoinOPSX (cox) USB drive.

Create two sub-folders in the

cox

folder on your USB drive. One folder is called

playlist_art

and the other is

playlists

.

The

playlist_art

folder is for the playlist's image.

playlists

is for the

.txt

file that contains the names of the UCE files.

Create a

.png

image that is either 998 (width) x 291 (height) or 590 (width) x 225 (height), then place it into the

playlist_art

folder. Each image name should match the playlist name it is intended for.

Note: Naming for all steps is case-sensitive and must match to work correctly.

Create a

.txt

file using

Notepad

or equivalent, then save it to the

playlists

folder. The title will be the playlist's name, e.g., a playlist named

fightinggames.txt

will have an image named

fightinggames.png

created in Step 3.

Edit the

.txt

file. List the names of the UCE's you would like to display in this list. In the text file you want to copy the name of your UCE file only with

NO EXTENSIONS

and

NO SPACES

or other characters after the name of the game at the end of the file name. An easy way to ensure accuracy when using

Windows

is to select a game name, press

F2

or right click and

Rename

, then press

CTRL+C

to copy the name of the game UCE. You can then paste the file name in your playlist

.txt

file. Do this for all games you want to add to this playlist, then save your

.txt

file.

Repeat steps 3 through 5 to create more playlists.

 

You do not need to run the AddOnX tool on your USB drive if you have already done so and are just adding playlist artwork and playlists.

Note: Playlist Favorites, All, and Last Played will automatically be created using the CoinOPSX app on the ALU

. If you want to make images for those playlists, add images named

all.png

,

favorites.png

, and a

lastplayed.png

to your

playlist_art

folder.

Insert the USB drive into your arcade device and enter the CoinOPSX app. When in the app, press the

X

button or equivalent to switch between filters.

[CoinOPSX] Filter function added in v1.2. To use this feature, please do the following:
Fixed issue displaying offline token count for CoinOPSX.
Miscellaneous
Minor UI improvements.
General performance and stability improvements.
Known Issues
You may lose control of the external device in OTG mode; reseating the USB cable should fix this.
Some stability issues with Bluetooth 5.0 headsets.
CoinOPSX (support for this third party app provided by the CoinOPS team):

Having both pUCE and CoinOPSX USB drives in each USB slot may cause abnormalities.
[ALU1.1/Gamer] Control Mirroring only works when the control deck is connected via USB.
[ALU1.0] New sorting order is not supported on game pack titles yet, it will be corrected with game pack updates.

About the Release Notes

The release note offers brief, high-level descriptions of enhancements and new features for your Legends Arcade Family product running on the Legends Arcade Platform. We include setup information, tips to help you get started, and best practices to help optimize your experience.

About the Legends Universal Firmware

Supported devices in this release of the Legends Universal Firmware update include Legends Ultimate 1.0 (350 games version), Legends Ultimate 1.1 (300 games version), and Legends Gamer Pro.

A software update can include, but is not limited to:

Device stability improvements and bug fixes.
New and/or enhanced features.
Further improvements to performance.

To get the best from your device, please regularly check for software updates and keep it up to date. To update your device, select Version under Settings and follow the prompts.

The publicly available versions of the release notes are available here.
All images, trademarks, and copyrights are the properties of their respective owners and are used solely for illustrative purposes.