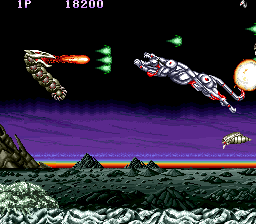 April 8, 2021
Each week for Arcade Gems we highlight some lesser-known, must-play titles. These games are favorites of those in-the-know, and, once you give them a try, we think you'll agree that they're worthy classics.
This week's Arcade Gem is Saint Dragon (Jaleco Ltd., 1989). In the horizontal scrolling shoot 'em up, Saint Dragon, monstrous cyborgs have taken over the galaxy, enslaving every civilization in their paths. Each being has superior firepower and attack capabilities and is unmatched by all but one of their own—St. Dragon. With a variety of weapons in your arsenal, the player takes on the role of St. Dragon and fights to save the galaxy from tyranny.
All images, trademarks, and copyrights are the properties of their respective owners and are used solely for illustrative purposes.