July 15, 2021
01For Pinball in the Cloud, we highlight Pinball AddOnX (pAOX) games that not only provide full leaderboard support, but also support both Team Play and Party Play. With Team Play, you can combine your score with other players on your team to compare against other teams. With Party Play, you can watch the other player or players compete as you alternate turns.
This week's Pinball in the Cloud highlight is Tempexx by polygame, an intense 1980s-style arcade homage.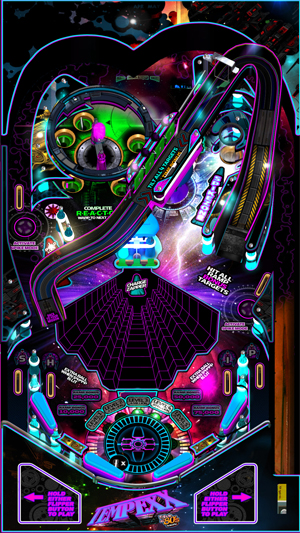 Tempexx Gameplay Modes
Tempexx Mode: Zap the Tempexx targets to reset each spawning star. Keep them low at all times because if they reach the top, the column will be destroyed. When all the columns are destroyed, the game is over. Spikes Mode: Hit left and right lane to unlock the spike zone tube. Secure the ball in the tube to activate the spike zone mode. When on, use the flippers to destroy the spikes… you will have to find the right pattern to make it as quickly as possible because each passing second chops down the bonus. The Stomper: Hit the ramp, then toggle the flippers to activate the stomper. It is all about timing to collect all four targets. The Reactor: Hit each kicker once in the reactor to light them all up. When you succeed, you will be warped to the next level, restoring any damage you sustain. Each Tempexx level goes faster and faster.
---
All images, trademarks, and copyrights are the properties of their respective owners and are used solely for illustrative purposes.